Teen gets a car of his dream after cleaning streets at night
This story is a great example which proves that whatever you do with pure heart will be always awarded sooner or later.
An American teenager from the city of Buffallo, NY, decided to clean his neighbourhood streets from the garbage left after the protests against the ill-treatment of black-skinned people. And his efforts were highly appreciated by the local residents. Neighbours sent gifts to the young man, and he also got a car of his dream.
18-year-old Antonio Gwinn Jr., a student of high school, saw that streets were littered with garbage. He decided to take responsibility and clean the neighbourhood on his own. Monday night he bought garbage bags, took a broom and started working.
When an organized group of local people came to clean the streets in the morning, they could not believe their eyes. They most part of the streets was already cleaned by Gwynn.
The news about the local young hero rapidly spread in the city. Many residents wanted to thank the teenager. Among them was Matt Block. The man saw the story about Gwynn on TV and decided to give the boy his red Mustang (manufctured in 2004).  The decision was well-weighted. Mr. Block had checked Gwynn's profile on Facebook and found out that the young man had been planning to buy a car and had asked people for suggestions. When the young hero got the 4-wheeler gift, he admitted that the red Mustang of 2004 was his dream.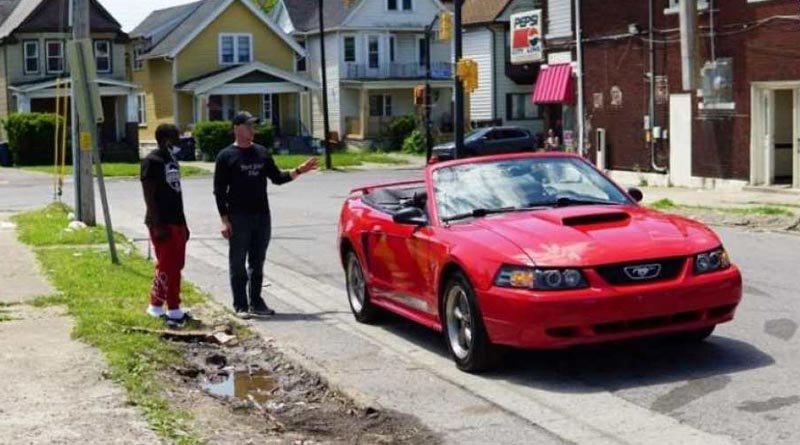 Along with the luxury car, Gwynn received a free 1-year insurance for his new vehicle. It was a gift by local businessman Bob Briceland who runs an insurance angency in the city.
After high school, the young man had planned to pursue his study in a trade school and save money for further college study. Having learnt about Gwynn's efforts and future plans, Medaille College in Buffalo awarded him with a full-scholarship and offered to study business. The "hero" happily accepted the generous gift and will start his study this autumn. Among the unrealised dreams of the young man is to open a cleaning company.
"I appreciate everything everyone is doing for me," said Gwynn thanking the community for such a generous response to his efforts to keep his neighbourhood clean.
Title photo: fox2now
Comments