Savoury chilli paneer (recipe)
Chilli paneer is one of the most favourite dishes in Indian cuisine. If you are not in India you can replace paneer with Circassian cheese (Adyghean cheese).
Ingredients
paneer (or Circassian cheese) – 250 g ;
1 big onion;
garlic – 5 cloves;
grated ginger – 1 tablespoon;
2 medium sized tomatoes;
1 big  green bell pepper;
tomato sauce (ketchup) – 3 tablespoons;
sabji masala (vegetable spice) – 1 heaped teaspoon;
vegetable oil – 2 tablespoons;
crashed black pepper or black pepper powder;
salt – according to your taste.
Preparation steps
1. Preparing paneer
Cut paneer in medium sized cubes.
Heat oil in the pan.
Fry paneer till it turns golden. You can add little salt.
Put aside in a plate.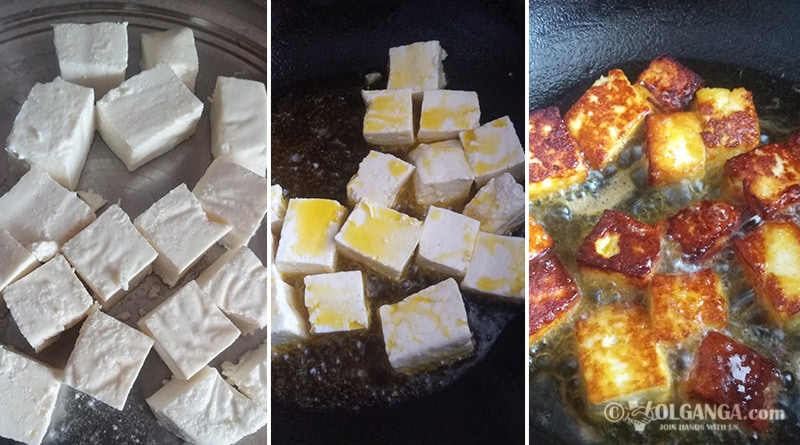 2. Preparing the rest of the ingredients
Cut onion in big slices.
Cut bell pepper in big pieces.
Cut garlic in small pieces.
Peel and mash tomatoes.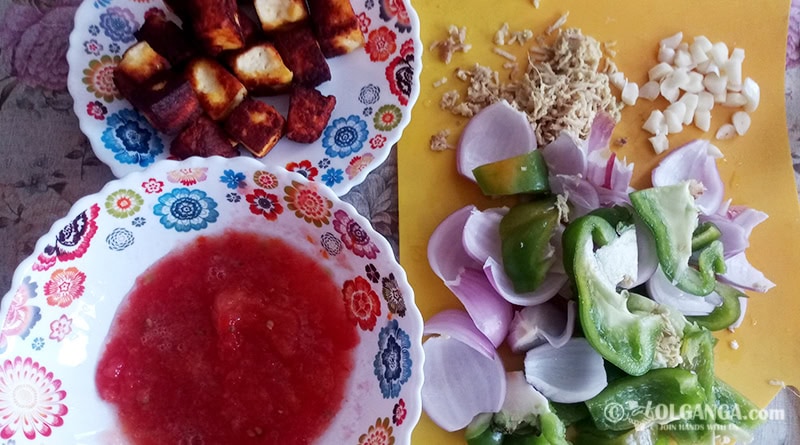 3. Frying
Heat little oil in a deepfrying pan.
Add onions, ginger, garlic, bell pepper and fry everthing for about 10 minutes, mixing continously.
Add mashed tomatoes, tomato sauce, masala (spice), crashed black pepper, salt according to your taste and mix all again.
Add 1/4 glass of water.
Keep everything on high flame for another 5-7 minutes.
Add paneer. Mix well and fry on medium flame for the next 5 minutes.
4. Serving
You can serve chilli paneer as a standalone meal, or accompanied by rice or roti (chapatti).
Another variation of chilli paneer is chilli potatoes. Check out the recipe here.
Enjoy your meal and share the photos of your result in the comments below.
Comments