Unique spring well of living Ganga water far away from the holy river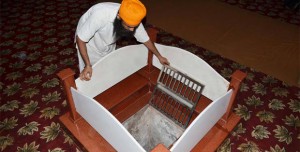 VARANASI: While the Indian Government is busy formulating policies to clean the river Ganga that has been loaded with pollutants at every inch, the water of the holy river is pure and drinkable here at the Baoli Ganga Pargat (well making the Ganga manifest). The narrow well is present at the Gurudwara Badi Sangat in Nichi Bagh area of the parliamentary constituency of Prime Minister Narendra Modi. It is believed that through the grace of the ninth Guru of Sikhs, Guru Tegh Bahadur Singh, the stream of holy water of the river Ganga appeared at the place.
"The water well is situated near the sanctum in the main hall of the Gurudwara since 1666 when Guru Tegh Bahadur Singh arrived the city to meet one of his follower. However, the well is not just a source of ground waters, it provides water from the river Ganga, as it is written in our holy book," claimed Sardar Mahendra Singh, manager of the shrine appointed by Gurudwara Prabandhak Committee.
The stream appeared is still preserved in the form of a narrow well and the devotees drink its water as nectar.
"The water is pure and drinkable without any pollutants. Moreover, by the blessings of Guruji, the curative properties also existed in it. Thus, the followers come and have it for the sake of their good health."
Recalling the history of the water well, Mahendra said, "During the seven-month and 13-day long trip of Guru Tegh Bahadur Singh to Varanasi, he stayed at the resident of Bhai Kalyan Mal, the site of the present Gurdwara Bari Sangat. One day he was getting ready for meditation, when Kalyan Mal came and asked him to go for a holy dip in the river Ganga on the occasion of eclipse. In reply, Guruji said that the river existed here only and asked to remove a stone on the floor. A flow of holy water came out and he took bath. After this, the water level goes down and the place is preserved as Baoli Ganga Pargat till the date."
Having length and width of three feet each, the water well is deep inside and remains filled with water round the year, informed the manager. A devotee told us in the Gurudwara, "I used this water for all the sacred ceremonies hold at my place as holy water of river Ganga. It is pure, drinkable and also contains divinity.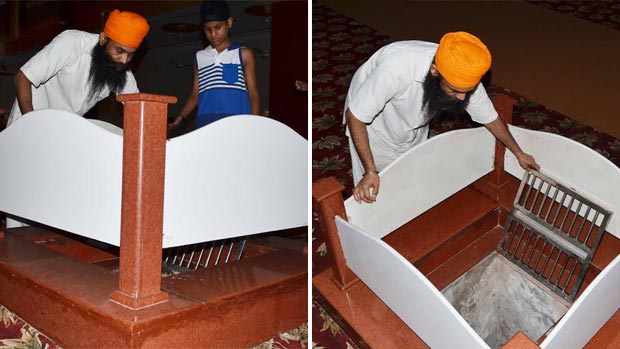 Comments