Delicious tandoori aloo-baingan bharta at home (recipe)
This a delicious dish usually made on open fire in villages, especially in the state of Uttar Pradesh. The fire gives food a special taste. But no reason to be upset even if you are a city resident. You can prepare aloo-baingan bharta in the convenience of you urban flat as well, and without burning your home 😉  Just use a grill grid.
Ingredients
one big round brinjal;
3 boiled medium potatoes;
1 big onion or 2 medium onions;
2 tomatoes;
garlic – 8 сloves;
grated ginger – 1 tablespoon
2 green chili;
green coriander;
vegetable oil – 2 teaspoons;
mango powder – 1 teaspoon (optional ).
Preparation steps
Chop onion, garlic and coriander.

Fry brinjal on medium fire for about 15 minutes. During this time turn it around so it is fried evenly.

Fry tomatoes in the same way for 5 minutes.

Fry chili for a minute.

Peel brinjal, boiled potatoes and tomatoes.
Put everything in a bowl. Add chopped onion, garlic, coriander and mango powder (optional).

Add salt according to your taste.
Add two teaspoons of vegetable oil.
Mash everytting well using your hand or with a fork.
Serve it with rice and dal, roti, or bati (litti).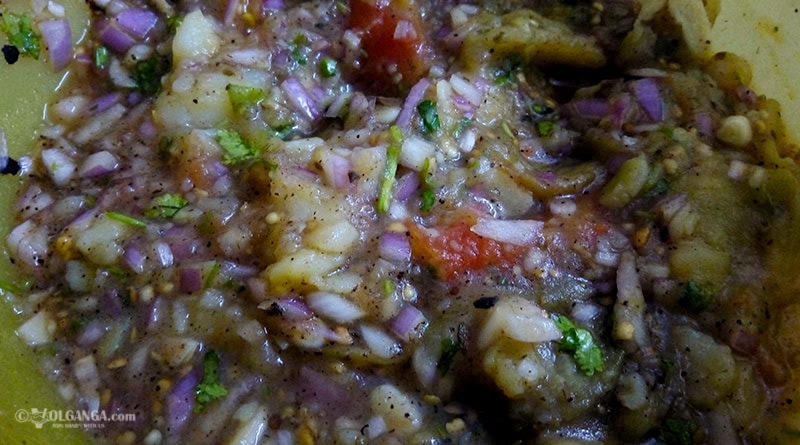 Enjoy!
Comments