Natyashala: The vanishing stage for Sanskrit drama art
VARANASI: While the Prime Minister Narendra Modi ia making every effort promote the Sanskrit language among the masses, the first open-air theatre for performing Sanskrit dramas across the country has become a hallmark of a long-neglected site in his parliamentary constituency.
The open-air theatre 'Natyashala' at Sampurnanand Sanskrit University (SSU) in Teliabagh was built in around 1958. It was first established under the name of Varanaseya Sanskrit University. Its the then vice chancellor (VC) was Professor Adityanath Jha.
The theatre itself was founded to promote Sanskrit dramas and raise interests towards art and theatre in students. However, the theatre witnessed just few Sanskrit dramas performed by varsity teachers and students. It has soon been turned into a marriage venue and an annual celebration of Durga Puja.
Today the theatre is facing a dreadful condition. The paints has left the wall. The flooring is damaged at every step. The garbage is strewn around the campus. Stray animals are strolling all over it. The place is situated close to the residents of class forth employees. Therefore it has been used as a playground for their children as well when not engaged in wedding ceremonies and Durga puja celebration, said the staffs of SSU.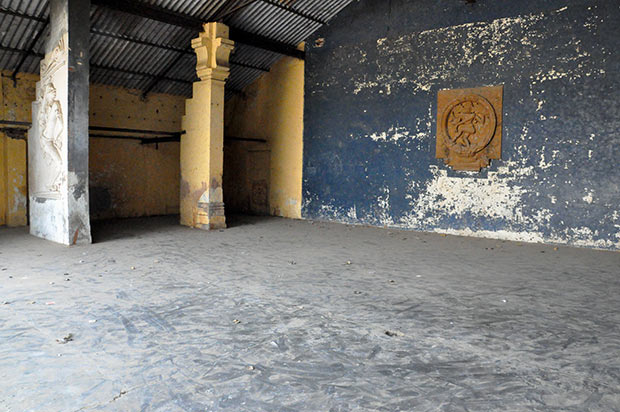 "Natyashala was established as the first open-air theatre in any university of the country to perform plays based in Sanskrit language," informed Naveen Kumar Sharma, estate officer at SSU.
Explaining its glory, he added that the theatre was furnished with excellent timber of Sagwan. It also had a green room for the waiting and make-up of artistes.
"The place has now lost its charm with no wooden flooring remain. The theatre was cemented and used by staffs for wedding ceremonies. Also, the idol of goddess Durga was installed in the premises by Nav Yuvak Club comprising of class forth employees of SSU on Dussehra," Mr. Sharma said.
Natyashala underwent restoration in 1995 under the supervision of the then VC Prof. Venkata Chalan. The last Sanskrit play performed in the theatre, was Mudrarakshasa of Vishakhadatta.
"It is sad that the theatre is not being used for the purpose it was built. We have lack of teachers and thus the university could not held Sankrit drama often, as the remaining staff remain busy in academics," Prof. Yadunath Prasad Dubey, VC of SSU, commented.
However, the vice chancellor assured that he would make possible effort to revive Natyashala as the stage for Sanskrit plays.
Comments