Minions (2015): Trailer & Animated Film Review
They've been on this planet far longer than we have.
They are all different. But they all share the same goal:
to find the biggest baddest villain to serve.
Meet the very Minions you got chance to know in Despicable Me and Despicable Me 2.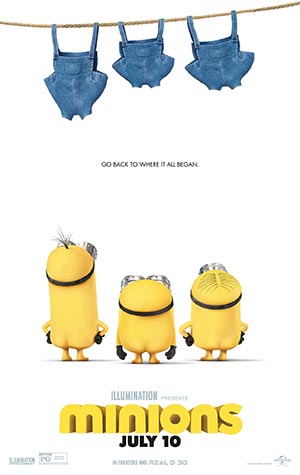 Movie: Minions.
Genre: family comedy, science fiction.
Directors: Pierre Coffin, Kyle Balda.
Script writer: Brian Lynch.
Cast: Pierre Coffin, Sandra Bullock, Jon Ham, Michael Keaton, Allison Janney, Steve Coogan.
Narrator: Geoffrey Rush.
Year: 2015.
Country: USA.
Release dates:
– June 11, 2015 (London premiere);
– June 18, 2015 (Australia);
– June 26, 2015 (UK, Ireland, Poland);
– July 9, 2015 (Russia, Ukraine);
– July 10, 2015 (India, Romania, Cuba, Canada, USA)
check for more countries on IMDb.
Running time: 1 hour 31 minutes.
Official website: www.minionsmovie.com
Minions is a new 2015 upcoming family comedy and science fiction computer-animated film distributed by Universal Pictures. The movie is directed by Pierre Coffin and Kyle Balda from Brian Lynch's script. The animation has gathered such starts as Sandra Bullock, Jon Ham, Micheal Keaton, Allison Janney, Steve Coogan, Pierre Coffin as Minions, and Geoffrey Rush as narrator. The film is set up as a prequel to the previous two movies Depicable Me and Despicable Me 2. From being on supporting roles, Minions this time become the main characters of the movie.
What are Minions?
If you haven't seen the previous two parts of the film, you would probably like to know who these minions are. In fact, they are tiny pill-like yellow creatures evolved from single-cell organisms. They have been inhabiting the Earth since the beginning of times. Their only aim has been to seek for the worst and most terrible villain and serve him. However, keeping a master turns out to be the most difficult task for these creatures.
Most of the time minions are babbling something non-understabdable in a funny helium-inflated voice. The only words you will get distinctly will be their names, 'banana' and 'kumbaya'.
Story
This time we are getting to know how Minions were living before the met their all mighty super villain Gru. The story begins from the ancient times of dinosaurs. The tiny yellow "freaks" had a T.Rex as their master but this did not last long as clumsy minions bumped him into an open volcano. Next victim was Egyptian Pharaoh who was smashed by a fallen pyramid (of course, it fell because of lubber Mionions). The fate of being destroyed by bumbling creatures embraced even the famous Napoleon. The credit of killing Dracula also goes to Minions as they accidentally exposed their master to the open sun light on his birthday.
Now when all the masters are finished, little creatures have lost their aim and joy for life. They have no one to serve. Nothing else can bring a smile to their faces and make them as happy as they were before. Fortunately, there has been a brave optimist among them – Kevin. He's firmly decided to take on travelling and find the biggest and baddest villain they have ever had. His companions become ever-hungry Stuart and scaredy-cat Bob.
The trio travels from Antarctica to New York, then Orlando. There they meet a rocket-skirt villain Scarlet Overkill. She poses herself as the greatest villain of all time and engages the three Minions in her evil deeds. She takes them to her London residence and asks to steal the crown from the royal palace. Ultimately, Minions face the betrayal of their new master. How the story gets twisted you will know on July 10, 2015 if you come to see this hilarious sci-fi family comedy.
Minions (2015): Official HD Trailers
Minions Trailer #1 (Summer 2015)
Minions Trailer #2 (Summer 2015)
Minions Trailer #3 (July 10, 2015 in theatres)
Impressions
Minions seems to be a light animated family comedy with hilarious unusual characters, their mischievous behaviour and funny language which they are speaking.  But this impression is superficial. In fact the idea and message of the film goes much deeper. Though historical facts are intentionally distorted, little kids will get to know some facts about the life of our planet. They will meet famous historical personalities like Napoleon, the King, and Pharaon. Serious facts are well-packed in an attractive wrapper of good sense of humour, bright interesting characters and elevated mood. All these cannot fail to bring a  a smile on your face and make you laugh at many episodes.
Minions is an original theory which proves a contrario what is bad and what is good. First we see Minions looking for and faithfully serving their greatest villains of all times. We laugh at how clumsy they are so they incidentally destroy all their masters. There is a deep message here which tells us the universal truth – Goodness always wins Evil. Naturally good and kind in their hearts, Minions tribe is a personification of Goodness. Even not doing in known, their actions have always resulted in evil destruction.
Catch the opportunity to spend unforgettable time with your family in a company of hilarious tiny yellow freaks. They will touch your heart and soul with their sincerity, friendliness and faithfulness.
Comments