Coronavirus quarantine pastime is fun
Countries and cities are locked down, people are urged to live in self-isolation in order to surpress spreading of the human coronavirus. Some are working from home, others are trying to occupy themselves with all the possible activities. Let's sneak peek how people around the world are spending their time on quarantine during the pandemic of COVID-19.
Couting holes in biscuits
Is that a challenge, guys?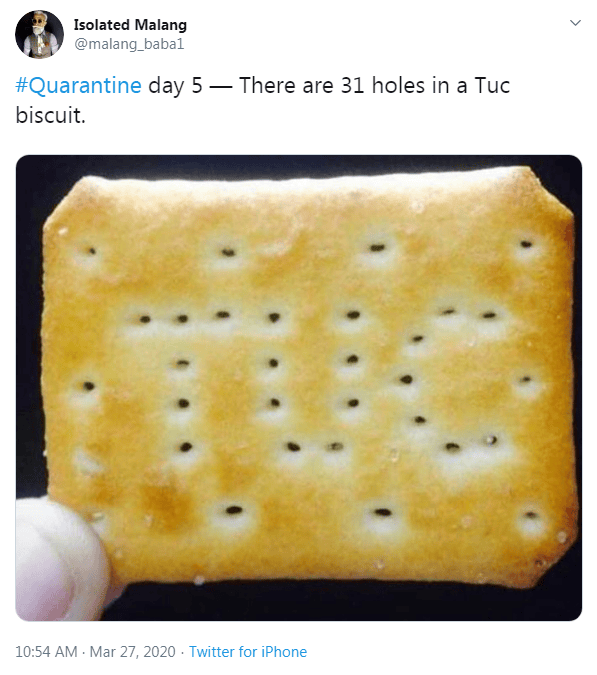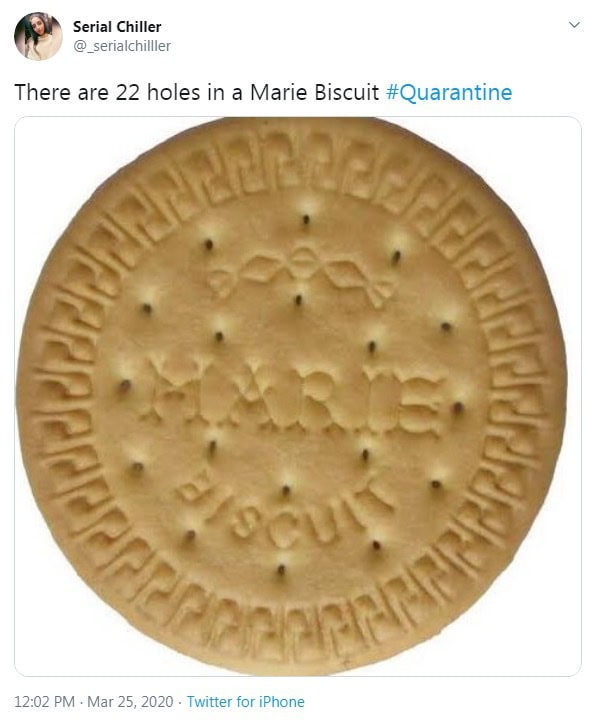 Spending more time with pets
Lockdowns and quarantine has brought everyone home and reunited owners with their pets. However, not all pets may be happy of spending all day long with their "masters". This turtoise seems to be prepared for racing. It reminded me of an animation movie "Turbo" about a speed-obsessed snail. Haven't watched it yet? Go ahead, you have time)
#Quarantine Day 6; Speed up the Turtle😀👍👏😁
U:GorgeousGeorgieous pic.twitter.com/kjM6v5QmtL

— Carlos Andreas (@candreas2k) March 27, 2020
While some pet owners try to improve their pets' lives, others got a chance to observe what their pets are doing at home during the daytime when their "hoomans" are at work.
Everybody handles #Quarantine differently!
U: GorgeousGeorgieous pic.twitter.com/nwL4TeCRQu

— Carlos Andreas (@candreas2k) March 26, 2020
Remember that some attemps to entertain your pet can fail just like in the following video. Obviously this cat is neither a party lover nor an admirer of special effects.
#Quarantine Day 6; Don't freak out the cat!👏👍😀
U:LeBachar pic.twitter.com/Cop1K3JE3s

— Carlos Andreas (@candreas2k) March 26, 2020
#QuarantineLife makes people and cats go a little crazy

😜😸❤️ music source unknown pic.twitter.com/yEofzhkGoD

— Titmouse (@Titmousie) March 25, 2020
This one is a quality time with your pet. Both are enjoying a delicious dinner together.
Quarantine mood booster:

Instead of eating dinner in front of the TV, set a nice table for yourself and a companion.#QuarantineLife pic.twitter.com/gONSdd8WDm

— 🐈Hirondelle🕊 (@realHirondelle) March 26, 2020
There are many movies about zombie apocalipsis. But during this quarantine some pets are witnessing "hooman" apocalipsis when their owners start moving strangely.
Work From Home Breaks are fun. #QuarantineLife pic.twitter.com/nJI3VwlTK0

— Quarantined Chikna (@Madan_Chikna) March 24, 2020
Staying home
A home on wheels is a real life savior for those who cannot put their lives on pause.
Stay at home 😝🤣#StayHome #COVID2019 #coronavirus #Quarantine #QuarantineLife #QuarantineActivities #haha #funny #wtf pic.twitter.com/HE0HFFTd3q

— Extreme Memes (@wtfurk_memes) March 26, 2020
Quarantine places to visit
Probably these are the most crowded places nowadays.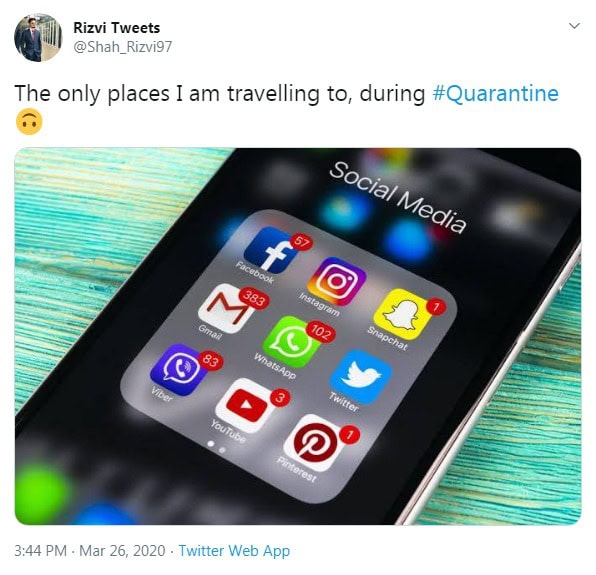 Playing new sports. – Is that a hairball?!
Staying fit is one of the most important things we should stick to during the coronavirus outbreak. Only strong body can fight the virus and win it. These girls are a great example how to turn ordinary sports into fun.
#quarantine day 9 ! Needed to find a way to help my sis having her basketball training ! pic.twitter.com/ySvslKGTJR

— laetitia ky (@laetiky) March 24, 2020
Food chain reaction
Many celebrities are posting videos of them cooking. This man went furthher by creating a food chain reaction. Why so much efforts? It's quarantine time! Have fun and do things just for enjoyment without any serious reason behind it.
What people without cats are doing #QuarantineLife #QuarantineActivities pic.twitter.com/5lkCJC7PsJ

— Happy Cat (@HappyCatCentral) March 27, 2020
Interact with TV
Lonely people in self-isolation start find ways to socialize at least with TV, and TV has its own rections))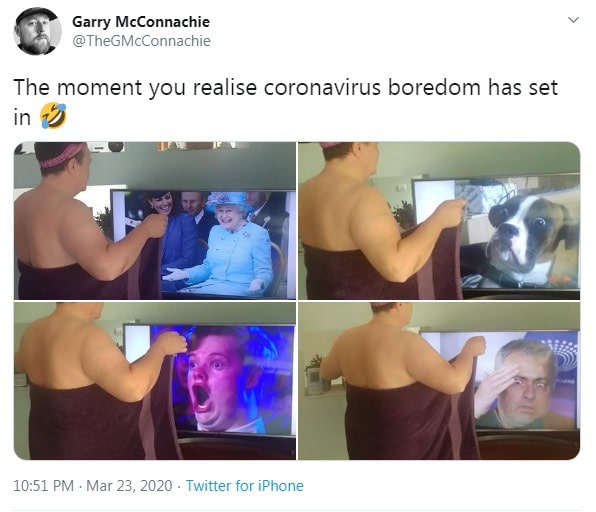 Comments