Sherlock "The Lying Detective": Review & Impression
You might have searched for "The Lying Detective" review in order to get to know something hidden behind the scenes, words and events shown in the episode 2 season 4. But I would cite Sherlock and say that "the safest place to hide – plain sight". How would I describe "The Lying Detective" episode? Well, the first word I get in  mind is " a rollercoaster". Do you remember what you were feeling during the first ride and after that? Same you are going to experience while watching Sherlock Season 4 Episode 2 "The Lying Detective".
It is just mind-blowing in everyting. Truely the strongest episode ever in its every bit: higly masterly written scripts with a great deal of vivid imagination, deep philosophy and humour, splendid acting work of the show stars – Benedict Cumberbtch, Martin Freeman, Amanda Abbington, – and of newcomers – veteran actor Toby Jones as Culverton Smith, a serial killer, and Sian Brooke as Sherlock and Mycroft's secret brother who has happened to be actually a sister.
You see, it is rather hard for me (as a big fan of Sherlock Holmes) to put all the emotions from the episode aside and pass over to the formal part of the review. But I'll do my best.
On the surface the story line is simple. However if we take a deeper look on details we will find a great deal of nuances and other interesting things. And to be honest, I am pretty sure that the story of "The Lying Detective" is left unsaid, mean it is not finished yet, and it will continue in episode 3.
In "The Lying Detective" Sherlock deals with a serial murderer who is known to public as wealthy and successful businessman Culverton Smith. Sherlock describes Culverton's skill to hide his criminal passion saying "The safest place to hide – plain sight". But how the great detective learns about the new villain. Let me touch upon the key stones of the plot:
John is missing his deoarted wife and cannot forgive Sherlock for not saving Mary. He finds a new therapist and visits her for the fist time.
Sherlock works himself into critical state of health by taking drugs. He asks help from John to solve the case in which the most dangerous villain ever is involved – public figure and wealthy businessman Culevrton Smith who is actually a serial murderer but manages to hide his crimes.
Sherlock and Mycroft's secret brother discloses himself, or I would rather say herself. The brother turns out to be a sister. And her name is Eurus.
The episode opens with a scene of shooting gun followed by John's face. Then we relocate to the  home of John's new therapist. We understand that he cannot reconcile with the thought that  Mary is not here anymore. That was really a  sudden and very surprising turn. I guess neither you expected Mary to be shot at the end of Sherlock season 4 episode 1 "The Six Thachers". Even the show's creators could not part with Mary so easily. And what a pleasant surprise! We meet Mrs. Watson in "The Lying Dective".
At first I even got an idea that maybe she managed to survive somehow but… In this episode Mary represents John's inner voice. It's rather interesting to watch John talking with Mary (with himself actually). Inside he still admire Sherlock but in his mind he cannot forgive him Mary's death. After all, Sherlock gave a vow to protect them.
Now… John has sessions with a new therapist. However he doesn't tell her all the truth about himself hiding the fact that he talks to imaginary Mary as he does not want to believe in her depart. It becomes obvious that they haven't met with Sherlock for a long while as Jon still has a grudge against him.
At a certain point John and his therapist hear the noise of car breaks. Who could it be? You won't believe! Mrs. Hudson is racing across London  with the surveillance of government helicopters. What a scene it is! Fast, gripping, beautiful and graceful. I loved it! And Mrs. Hudson was inimitable when John asked her in surprise whether that was her car.
And you know, this "old" lady managed to get Sherlock handcuffed and put him in her car's boot. She also persuades John to examine Sherlock as our detective has turned back to his drug addiction. Of course, John knowing how tricky his friend could be asks second opinion from Molly Hooper who becomes shocked from Sherlock's health state.
What is unusual in whole situation is that Sherlock previewed the flow of events about three weeks ago. I said "unusual"? Of couse not, not for Sherlock.
During all the episode we see our hero under the effect of drug. And this changed state of mind is carried over by rapidly changing frames. We also see some new effects like as where Sherlock explains to Culverton's daughter (at lleast he thought that time it was her) how he has deducted that her kitchen is small. That window hanging in the air and how he drags it closer to the imaginable wall. That is somthing you have to see with your own eyes.
One of the strongest scenes in "The Lying Detective" shows John beating Sherlock who lies on the floor helplessly and does not even try to protect himself. Instead, he says "He is entitiled. I killed his wife". And John  agrees, "Yes, you did." Violent – yes, but necessary for better understanding of feelings and friendship beween the two. It is probably the crossing point for John to accept Mary's death and to realize that Sherlock also regrets that he could not keep his vow. Byt the end of the episode John, after all, forgives Sherlock admitting that it was Mary's choice to give up her life protecting Sherlock. Well… in this episode we can find a lot of deeply philosophical and moving quotes. Just take the one where Sherlock talks about "Taking your own life":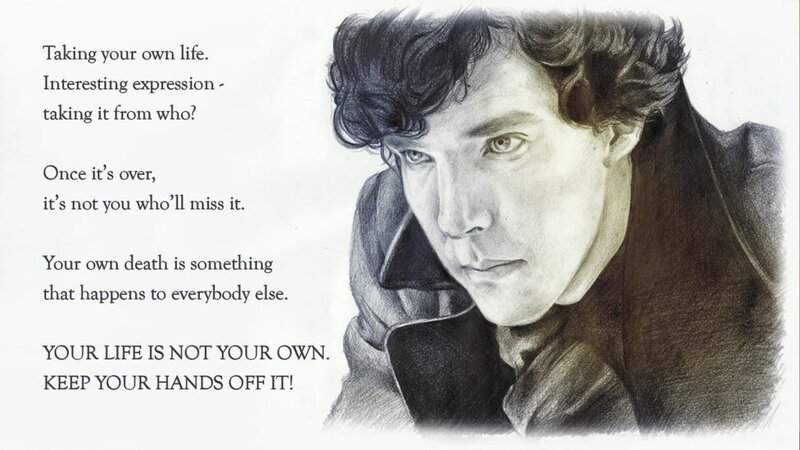 It's simply genius!
Impressions
What I think is "The Lying Detective" about? First of all I think of the word 'lying'. It actually can be interpreted in two ways: 1) lying, resting (for example, in bed), and 2) lying – not telling the truth. Secondly, Sherlock put himself in danger, or as Mary said "went to hell" for John's sake. He wanted to fulfil Mary's posthumous will. So we can see that Sherlock is not just a thinking machine. He is maybe more of a human than any other. And in this season 4 of Sherlock his transformation is obvious. Feelings and emotions are not alien to him. Friends and their goood attitude are important.
The end of "The Lying Detective" seems as Sherlock's failure. He understands that it was not Culverton's daughter who came to him asking to figure out whom her father wanted to kill. He understands he was cheated. But… he is Sherlock. I believe something remains unsaid. And we will be said it in Sherlock season 4 episode 3. Even though drugs might have transformed his state of mind and his health was shaken, Sherlock's acting talent and sharp brain are invincible.
Last scene of "The Lying Detective" is frightening and does not promise any good. I am saying about Sherlock's sister Euros aiming gun at John and the final shot. Hope, nothing bad will happen and a sudden twist of the story will save John's life and Sherlock will remain the winner. By all means, seeing two main characters die is too much! What do you think?
P.S. How I could forget! It's really intriguing. Sherlock still gets sms from Irene Adler, the Woman. John is surprised when after long time he hears that "interesting" message alert, that familiar "noise" as he calls it. He realizes that Sherlock saved her life and persuades Sherlock to message her back and meet her. Having lost Mary, John wants Sherlock to value what he has and not to reject his tender feelings for the Woman.
Comments