Holy city worships demoness Trijata
VARANASI: Whether for Navratri, Shivratri or any other religious occasion, a crowd of devotees is visible with religious fervor to the temple of concerned deity round the year in Kashi. Howeveer there is one day in a year when these devotees worship demoness Trijata (Trizata). They ask her to bring prosperity and longevity to them and their families. The day of the demoness Trijata follows the day of Kartik Purnima when all the ghats of Varanasi dazzle with earthen lamps and fireworks to mark Dev Deepawali.
The temple of Trijata is situated adjacent to the famous Ganesh temple of Sakshi Vinayak in Vishwanath Gali (lane). It houses a small idol of demoness made of stone.
"Trijata was a demoness. She was assigned to keep an eye on Goddess Sita when demon king Ravan kidnapped her during her exile with her husband Lord Ram and brother-in-law Lord Laxman. However, demoness Trijata ensured Sita's fulsome security from other demons in Ashok Vatika. Pleased by the demoness's selfless service, Sita ushered her blessings on Trijata saying the demoness would be worshipped once in a year by women for the safety and prosperity of their families," says Ramesh Tiwari, who manages affairs of the temple.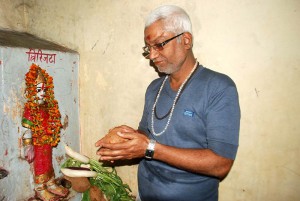 In pursuance with that blessing, the tradition of worshipping Trijata still continues unbroken, he adds.
On that day ever since the subtle cold morning, large number of devotees, especially women, gather in the narrow lane with religious items. They visit the temple and light earthen lamps on the floor drawn with Swastika by Kumkum.
Explaining the ritual carried on to mark the day, Ramesh Tiwari says, "The women come and draw Swastika on the floor where they light diya and chant the story of Trijata as per our mythology. Following this they offer brinjal and radish to the demoness. These vegetables are believed to be her favorite food items."
Thousands of devotees from across the Varanasi district come here on the festivity. The temple remains open throughout the day even in the afternoon and the devotees continue coming from morning till late in the evening.
"Since my marriage, I am coming to the temple on this day to pray Trijata for the well-being of my family. The temple opens only for one day and I am fortunate that every year I can visit it on the occasion", one of the devotees, Shanti Devi of Durgakund, says.
Comments