ADCC Infocad's employees show their talent at 17th Foundation Day celebration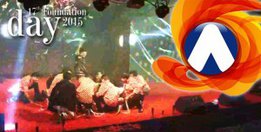 ADCC Infocad's employees showed their versatile talents at the company's 17th Foundation Day celebration. The event took place at the Sun and Sand Hotel in Nagpur. A special performance programme was staged for the guests of the event. ADCCians from different branches of the company presented their versatile talents to the public.
One of the performances of ADCC Infocad's gifted employees you can watch in the video below. It demonstrates the whole celebration in style and gives you a feeling of the event in general.
The preparation for the celebration started long before the function. The busy schedule of ADCC's employees became busier with a daily 3-hour dancing class. A choreographer was specially given to the company's talents to set the performance up to the mark. During the dancing classes, except the tricky steps, serious office people had learn how to forget the official manners, behaviour and even subordination as the stage makes everyone equal.
ADCC Infocad Limited is a global company that specializes in GIS and Engineering services solutions. Originally it was founded as a software solution provider in 1998. Today the company has grown and developed alot. It cooperates with the leading softwares developing corporations and distributes software solutions worldwide being an exclusive representative of a certain solution on the particular territory. Among the company's partners are such giants as Mathworks, Siemens & National Instruments, Intergraph, Dassault Systemes and many others.
Comments