11 self-isolation challenges during the coronavirus global quarantine
The novel coronavirus has locked everyone at home. And staying home has become a real challenge for most of us who could have never imaged a life limited by home walls. These days social media has turned not only into a window to the world but into a door, balcony, gate for peoplea. With countries locked down, some families became separated from each other but thanks to social media, messengers and internet on the whole we can stay connected.
For those who cannot do work from home in self-isolation every day may seem same, doesn't matter what date or day of the week it is. However, the life on social media has not stopped. People are sharing coronavirus memes and launching different challenges to occupy their free time which has suddenly fallen on many of us during the coronavirus outbreak.  So, if you feel bored in self-isoaltion, just utilise your time by taking part in some quarantine challenges.
Here we have collected the most intersting, funny, weird and dagerous staying home challenges. Not all are recommended for taking part in. Dangerous challenges are included in order to warn you and prevent from taking up challenges without thinking.
#Travelpics #challenge #quiz
That is a very intersting game. You will get to know new places and your friends. In the time of lockdown let us take our friends on travelling around the world and our own country and city.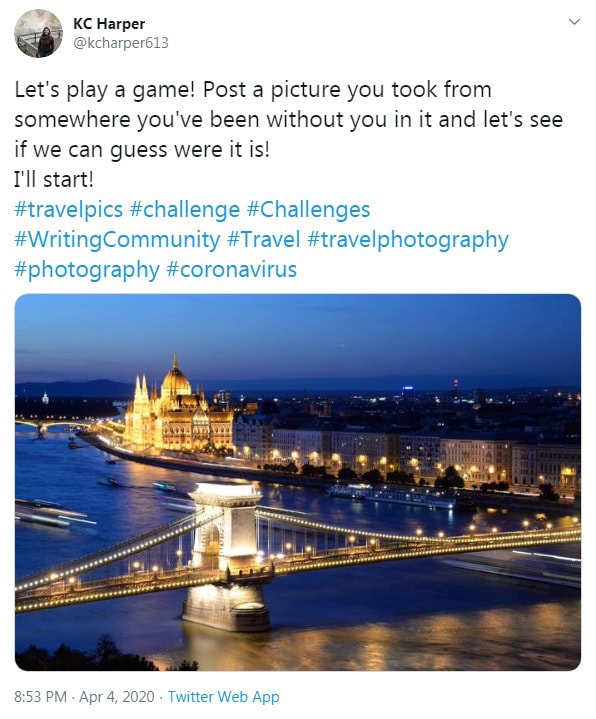 #Dressup #challenge
This quarantine challenge is not only for girls, everyone can participate. Shake up yourself from the every day home routine and dress up!
Hello 😏#challenge pic.twitter.com/E3xTDAmBoc

— AMANDA 🔥 (@mendipasso) April 4, 2020
Involve your mom and other family member in the activity. It can be fun.
🖌 #Challenge with mom
A votre tour les filles faites participer vos mamans😘 pic.twitter.com/oKV7LRkCJY

— +=+ (@manonbr11) April 4, 2020
Another version of this dressing up challenge. Choose your favourite music, dance and dress up at the same time. Be as creative as possible.
View this post on Instagram
#BraMaskChallenge
Shortage of medical masks around the world has given birth to a hilarious challenge.
#TieAScarf challenge
If you did not get the trick do NOT repeat it!
Abeg, for this isolation period no be every #challenge you see online you go do oo🤣😂 pic.twitter.com/nxAVIH0Trx

— Let'sBeHonest (@iLyttl) April 1, 2020
#TPchallenge
Now when we have finally stored enough of toillet paper rolls it is time to use it. Stay fit during the quarantine – take part in this toilet paper fitness challenge.
Ok Twitter…here's our new fitness challenge!! Get ur TP, tag and post! 😁🧻#turkishgetup #challenge #toiletpaper #TPChallenge pic.twitter.com/ecbystE8lJ

— Tiff ☆ (@tiffintraining) April 4, 2020
#SocksInBag challenge
Cannot go to the sports ground due to lockdown? There is a solution. Play this new sport right t your home. Equipment is simple and is available in any household: a hanger, a pair of socks and a plastic bag.
GB Hockey Player @Samuel_Ward13 is back for Day 3 with a new #challenge video!

See how many socks you can throw into the plastic bag in 60 seconds!#FightTheFear pic.twitter.com/rw6k2PwTWT

— COFIGHT-19 #FightTheFear (@Cofight19) April 3, 2020
#FingerFitness challenge
It is not as easy as it may seem. Try it yourself.
Fahriye Evcen yaparda biz yapamazmıyız 🤣🤣🤣 #CanSıkıntısı #FahriyeEvcen #challenge pic.twitter.com/45We0EqOiv

— Tugay (@Tugaybayramm) April 4, 2020
#CrimeSceneChallenge
Pets are not left behind in this challenge boost during the coronavirus quarantine.
View this post on Instagram
#MovieChallenge
Choose your favourite movie and try to dress up like the hero/ heroine. Nominate your friends to continue the thread.
#BetweenArtandQuarantine #challenge
Till now this is my favourite challenge. Imitating famous paintings. Approaches vary from the very close to the original to hilarious and sarcastic parodies.
The following one is just a masterpiece of coronavirus time.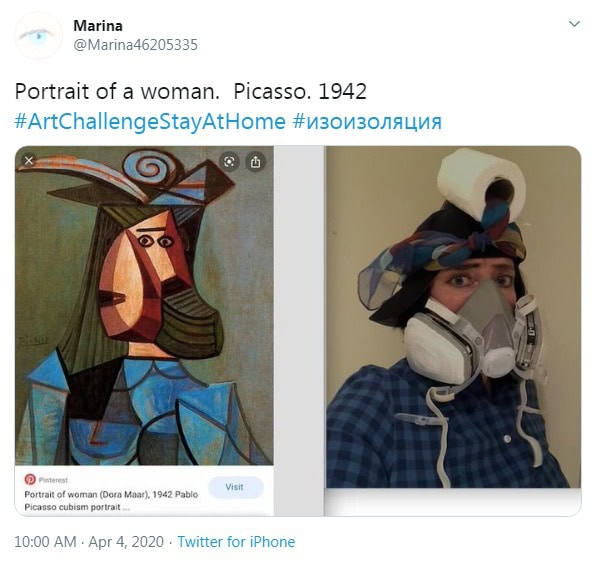 #Cornavirus #challenge – DO NOT TAKE PART IN IT
This is a most dangerous and stupid challenge during the quarantine time. People were taking selfies and videos of them licking toilet seats. This is harmful and we stand against such silly activities. Here is a result of one "influencer" taking part in the challenge which lead him right to hospital. Please, before doing something think twice, thrice, seven times. Remember, your health is more important than popularity.
For more ways of passing time on quarantine – click here.
Comments