BREAKING NEWS: Wave of earthquake tremors ran across Delhi
A wave of eathquake tremors has run across Delhi and neighbouring areas today, on April 12, 2020,  at 5.45 pm. People felt shaking for around 3 seconds. Despite the lockdown, many residents left their homes and came on the streets in their neighbourhoods as a precaution.
No damages have been reported so far.
According to the tweet report by Satyanarayan Pradhan, the DG of theof the National Disaster Response Force, an earthquake of magnitude 3.5 occured with its epicenter in the north-northeastern region of Delhi at the depth of 8 km.
Earthquake of Magnitude:3.5 just happened in Delhi NCR
DETAILS OF EARTHQUAKE 👇
Occurred on:12-04-2020, 17:45:03 IST, Lat:28.7 N & Long: 77.2 E, Depth: 8 Km, Region: NCT Delhi.@NDRFHQ @ndmaindia

— ѕαtчα prαdhαnसत्यनारायण प्रधान ସତ୍ଯ ପ୍ରଧାନ-DG NDRF (@satyaprad1) April 12, 2020
Earthquake epicenter
USGC reports the eathquake of magnitude  3.7 occured 4 km north-west of Sardhana, India, at the depth of 10 km.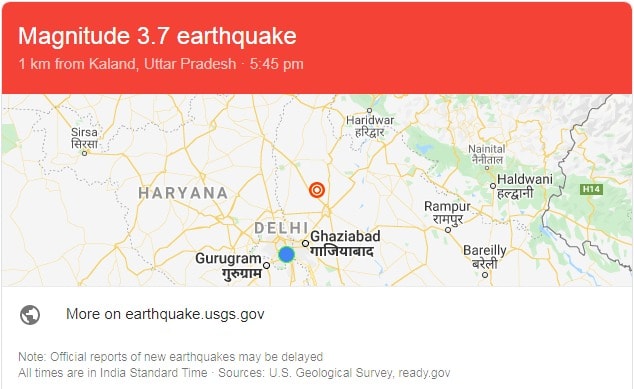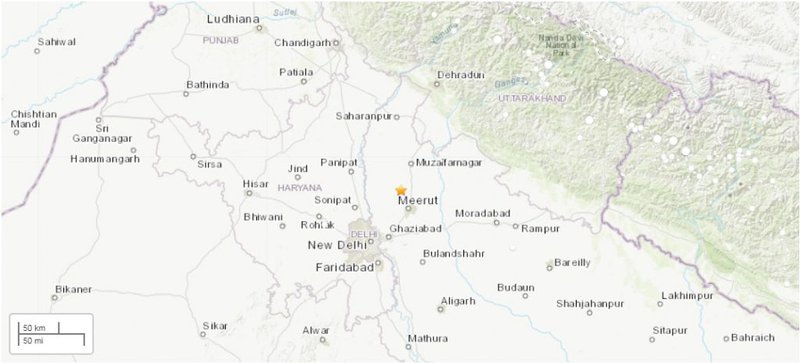 Second earthquake in less than 24 hours
In less than 24 hours after the Sunday earthquake Delhi experienced a new wave of tremors on Monday – April 13, 2020.
Users on Twitter about earthquake tremors in Delhi
Nice to see that during the lockdown people did not loose their sense of humour. However, some users are irritated by so many earthquake memes which made it difficullt to get out some serious facts about the recent earthquake.
What did you do after 5:45 feeling #earthquake #tremors? I ran to fetch face #Masks rather than running towards #door to evacuate home! #COVID__19 has changed response system too! @PMOIndia@TomRaftery @thinkers360 #coronaupdatesindia https://t.co/Xsb8B3QY0x

— Shweta Berry (@shwetaberry) April 12, 2020
Someone is definitely playing #jumanji #Earthquake #Corona #Tremors #AnimalsOnStreets #DelhiEarthquake

— Literate Fool (@awakeguy) April 12, 2020
Who else felt the tremors? Around 5:43 pm? The meme on whether we should stay indoor or run in case of an earthquake during lockdown almost got real. And scary😶#COVID2019india #Lockdownextention #lockdownindia #Earthquake #tremors

— Abhisek Dwivedy (@abhisekdwivedy) April 12, 2020
कोरोना कहता है अंदर रहो
भूकम्प कहता है बाहर रहो

हे प्रभु ये कैसी विडम्बना है 🙏🏻#earthquake pic.twitter.com/bkt5qxg2YN

— Devendra Singh Chouhan (@IndianDevstar1) April 12, 2020
It wasn't an earthquake..it was nature's trick to make us get up from our beds atleast for a few minutes 😂😂#earthquake

— Yukti Jindal (@YuktiJindal2) April 12, 2020
Suddenly this song from film AmarPrem comes back…Ye Kya Hua, Kaise Hua, Kab Hua,Kyu Hua…. #earthquake
Few sleepless nights for Delhi NCR now.

— Ashutosh Parihar (@Ashutos25727123) April 12, 2020
It looks like mother Nature is quite furious with mankind..Thats why we should always respect and take care of this beautiful and powerful environment….We are already fighting this deadly virus #COVID__19 and now this #earthquake ..Hey Maa Durga please have mercy on human race.

— Krishna Prakash (@KMystry64) April 12, 2020
After today's #earthquake, a chat between 2 animals:

"Now these humans will understand how it feels to first cage someone & then to torture them in the cage".

Nature is making us learn many things. Better we should learn. After all we r just one of the numerous species on earth

— World Youth Ambedkar (@WYAmbedkar) April 12, 2020
Comments